What Your Estimate for Exterior Home Painting Should Include
Mar 8
Homeowners in Denver who want to paint their homes' exteriors may feel intimidated by the unfamiliar process. What should and shouldn't be mentioned in a quote can be confusing. To help clear up some of the misunderstanding, this article examines in detail the thirteen components that painting contractors in Denver ought to include in an estimate for exterior home painting.
This guide will not only provide informative information, but also ensure that couples can accurately compare quotes prior to making a decision. With this thorough information in hand, Denver homeowners feel equipped to tackle the daunting chore of hiring expert painters for their houses!
Expenses of Labor
The labor costs connected with exterior painting should be the primary focus of your estimate. The total cost of labor must include the cost of the painters, their hourly rate, and the overall expected duration of the project. In addition, the estimate should detail the activities that the painters will accomplish, as well as any site preparation that must be completed prior to painting. Ensure that you request a full breakdown of labor costs in the estimate so that you understand exactly what you're paying for.
Brand and Quality of Paint
It is essential to comprehend the entire extent of what is mentioned in the quote. Together with the desired sheen, it is important to specify the brand, kind, and brand of paint and primer being used. Moreover, the product's guarantee should be included in the estimate, in case any problems arise in the future.
Project Location
The quote should specify the exact location of the project, including the address and any particular instructions. If the job involves scaffolding or ladders, this should be noted in the estimate so that the homeowner is aware of any additional costs.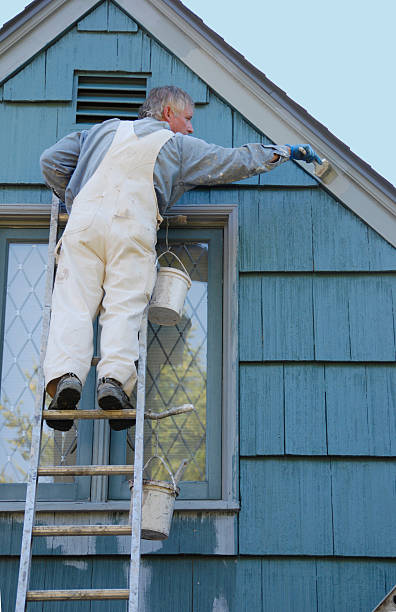 Tarps and Drop Cloths
Drop cloths and tarps are essential when it comes to exterior painting. They guard against exterior paint splatters and spills on nearby surfaces, such as driveways, sidewalks, and patios. Thus, all estimates for exterior painting must include who is responsible for providing these goods. If the painter will be providing them, their cost should be included in the estimate so there are no surprises when the painter arrives at the home's exterior to begin work.
Fees and Color Choice
When it comes to wood siding, the cost of painting is certainly the most important factor. Ask the contractor whether there will be an additional cost related with color choosing when receiving a quote for the project. Normally, homeowners need to settle on at least three color samples to make an informed selection before painting; therefore inquiring about the amount of swatches that are included in the overall quotation is crucial. Be sure to clarify any of your questions in advance, and then you can be assured that the wood trim or wood siding will be painted to your specifications!
Time Frame
The estimate of the project's duration, together with the planned start and end dates, should be included in the quote. The homeowner should be made aware of any potential delays, and the estimate should specify who is liable for covering any additional expenses incurred due to delays.
Terms of Payment
 It is crucial to make sure that payment terms are specified in exterior painting estimates. This should specify the total amount owed and how many payments will be paid; if continuous payments are to be made, then this should also be noted, along with the intervals between payments.
To avoid unpleasant late payment penalties, it is also crucial to pay by the due date, which is often decided on a per-square-foot basis. Knowing in advance when payment is due allows you to manage your budget correctly and thoroughly enjoy the exterior painting project without worrying about expenses!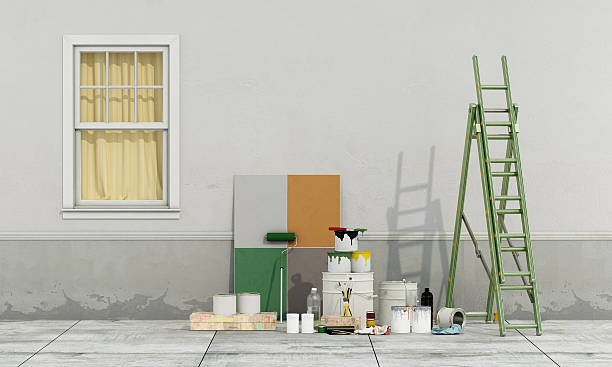 Cancellation Policies
Prior to preparing your paint brushes, it is vital to comprehend the whole cost of exterior house painting. Not only should you inquire about the price, but you should also inquire about any cancellation policies that may be in effect. Getting an accurate price with a clear cancellation policy keeps everyone on the same page and eliminates surprises on both sides. A detailed awareness of expected costs and policies helps to ensure that all parties involved have a great experience from beginning to end.
Clean Up
When choosing exterior paint pricing for a project, it is essential to factor in the costs related with cleanup and disposal. While some painting contractors may quote pricing that include these services, homeowners should always be aware of who is liable for any leftovers resulting from their exterior painting endeavor, such as latex spills or unused buckets of paint.
For those utilizing more cost-effective solutions, such as vinyl siding, there are other aspects of the clean-up procedure that must be considered, such as ensuring that the company's price quote includes dust cleaning from the exterior of the property. In either case, planning is essential to a successful exterior painting project.
Maintenance and Cleaning
A cleaning and maintenance program for the finished product should also be included in the estimate. This comprises the frequency of cleaning, the type of cleaner to be used, and the individuals responsible for cleaning and maintenance.
Warranty
Lead paint should be taken into consideration while painting an exterior. Any warranties related with the products or services should be included in the price to guarantee that the work is performed properly and safely. In addition to any manufacturer warranties for lead paint particularly, it is essential to include any warranty information from the painter. It is prudent to inquire about the cost of lead paint when painting an exterior, as it may necessitate more time-consuming methods and result in substantial price rises. Before beginning the project, make sure all guarantees are defined in writing.
Insurance
It is essential to confirm that the painter has adequate insurance coverage before beginning to paint the exterior of a property. Inquire if they have general liability and worker's compensation coverage-this will protect you from any unexpected costs or injuries related to their job. While a fresh coat of paint can increase the value of a property, having peace of mind knowing that your painter is fully insured adds an extra layer of assurance and security when painting the exterior of a home. Taking this extra care assures that you will be able to enjoy the final product without worrying about any potential problems or headaches in the future.
Final Price
When it comes to exterior painting work, one thing is certain: the cost. This should include all costs associated with the project, such as taxes, materials, and labor, as well as the cost of the exterior paint. Understanding exactly what you are paying for helps you remain within your budget and gives you a better picture of the scope of work required to finish the job. Before signing on the dotted line, make sure to ask your contractor for a precise estimate so you have a complete understanding of the exterior painting cost.
Last Thoughts
Homeowners may make the decision-making process much simpler by knowing what to look for in an exterior house painting quote. By understanding which factors to take into account, homeowners can confidently analyze and compare prices to ensure they are receiving the best value. With the help of this comprehensive guide, homeowners can rest assured that their money is being spent wisely on a high-quality exterior painting work.
If you're looking for more information on this subject, have a look at this article from Harmony Painting: https://harmonypaintingdenver.com/things-your-exterior-house-painting-quote-should-include/